Museum Bramberg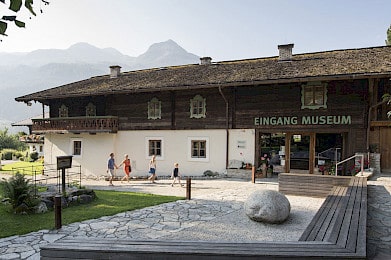 Contact information
Bramberg Museum has been housed at the Wilhelmgut, one of the oldest buildings in Bramberg, since 1979. The collection of pieces documenting local history and folk heritage began at the end of the 1950s and has been constantly expanded ever since.
To make it easier for visitors to find their way around Bramberg Museum, a color-coded navigation system leads through the various collections. In the lower section of the house, an impressive National Park exhibition casts light on the mineral wealth of the Hohe Tauern, allowing you to gaze upon the sparkling emeralds that have made Habachtal valley world famous. Remodeling work and additions conducted in 2010 gave the mineral department at Bramberg Museum a whole new, and more modern look.
The upper portion of the house is dedicated to regional and local cultural history. Here, you learn more about the history of the Wilhelmgut itself, about life as it was once led in the "emerald village" of Bramberg am Wildkogel, religious folk art, along with the diverse flora & fauna of the region. On the top floor, you will find yet another focus of the museum: an exhibition of beekeeping through the ages, including a living beehive.
Even the outdoor area of Bramberg Museum is well worth exploring, featuring 11 original buildings and a mining section.