Hiking in mineral-rich Habachtal
A valley that draws countless amateur mineralogists every year
Beautiful, natural Habachtal Valley in the Hohe Tauern mountains outside Bramberg am Wildkogel is world famous due to its emerald deposits - unique in Europe - and its wealth of minerals in general. If you would like to learn more, we would suggest a hike along the Emerald Path, which will introduce you and your children to the mineralogy and geology of Habachtal in fascinating, playful ways. In addition, you can even actively try your hand at panning for emeralds.
Emeralds in the Habachtal
Habachtal, where Bramberg is located, is the most mineral-rich valley of the Hohe Tauern. Interesting finds are possible in this wonderful place even today. Which means, even less experienced guest and hikers have the opportunity to find emeralds. Emerald deposits in Hohe Tauern National Park are in the Leckbach gully of Habachtal. From Almgasthof Alpenrose, it is easy to reach via a trail. Erosion has spread the emeralds from the rocks towards the top of the gully down towards Almgasthof Alpenrose, with mud- and landslides transporting the earth containing the emeralds all the way down into the valley. The emerald mine in the upper section of Leckbach gully is not accessible. Furthermore, this part of the gully is in constant danger from rockslides, so we strongly advise not climbing up there.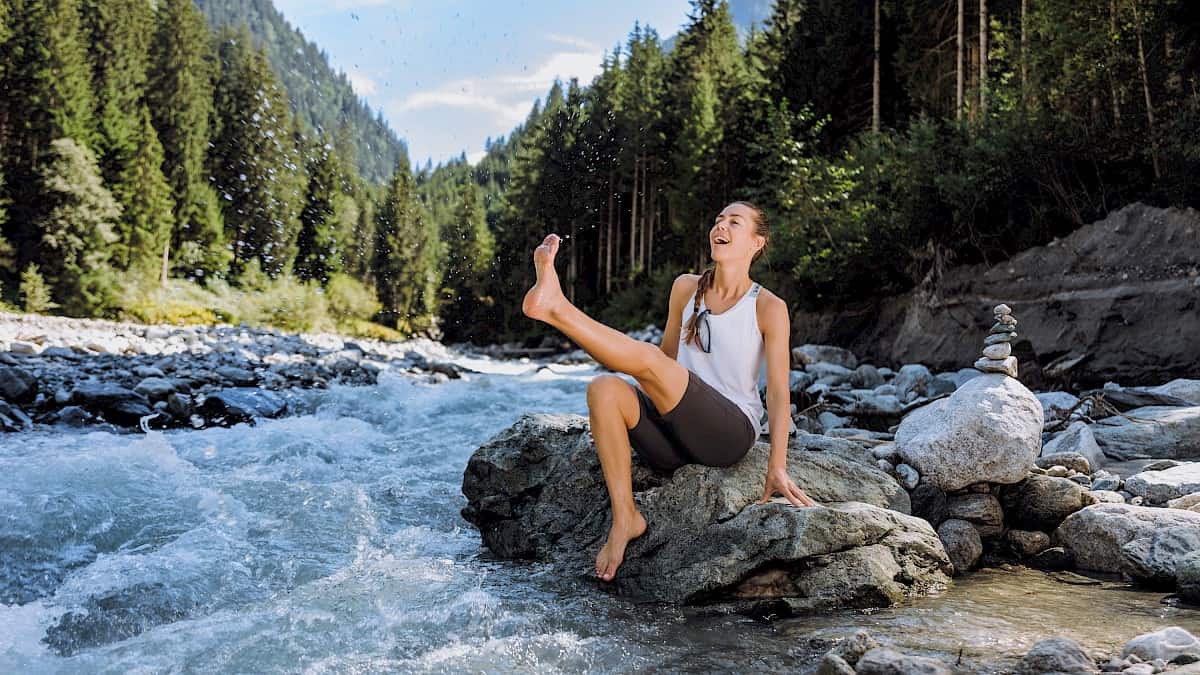 Historical background to Habachtal Emeralds

It is sometimes claimed that even the ancient Romans once panned for emeralds in the Habachtal. This cannot be completely proven and would seem rather improbable. Reports from a French scientist, claiming that a Habachtal emerald was actually in the crown of Louis IX (1226 – 1270), cannot be verified.

 

It is unlikely that the locals deliberately went about collecting emeralds, but rather that they simply picked them up because of their beauty, if they happened to find any on the earth's surface. 

In a 1669 letter, Princess Anna di Medici used the word "smaragdus" and was expecting a report from Danish scholar, Niels Stensen, about the emerald mines (who knows, perhaps it was referring to Habachtal?). When wealthy member of the Senningerbräu brewing dynasty, Maria Rottmayr, passed away in 1732, her estate included two gold rings with emeralds from the Habachtal .

 

1797 Schroll provides the first scientific description of emerald deposits in the "Heubachthale". 

1821 Mineral dealer J. Frischholz gives a full description of the area where emeralds finds are made in Habachtal. 

1829 Mine director Mielichhofer makes an emerald find in the Sedlalpe. 

1859 Zepharovich publishes in the Austrian Mineralogical Lexicon more precise details about the emerald deposits. From that point on, the area is more closely searched: several beautiful stones are found. 

1862 Samuel Goldschmidt is prompted by the many promising finds to purchase the entire area. At over 2,000 m above sea level, he has a mine building constructed, whilst beneath the Legbachscharte, several shafts are pushed into the "Smaragdpalfen". The yield is said to have been good. After Goldschmidt's death (1871), mining is temporarily halted. In the years following, English company Limited Forster takes over the mine, employing 30 miners who run the mine with great success. 

1896 Emerald Mines Ltd. of London acquires ownership of the mine. 

1913 The business has to cease operations due to high debt accumulated because of poor management. The community of Bramberg buys the entire area relatively inexpensively, since a substantial amount of back taxes are also owed to the town. 

1917 A sawmill owner from Traunstein, Anton Hager, purchases the mine. But he, too, is forced by adverse economic circumstances (WWI – economic crisis) to sell the mine in 1927. After the Austro-German Gem Mining Company and the Swiss Society for Modern Mining, the mine finally passes into the hands of Max Gaab, a King's Council from Munich. 

1938 Austria is erased from the map – ownership rights become blurred during this period. After the war, Colonel Hans Zieger is granted the post of Administrator of Mines under the American occupation forces. He is actively involved with the mine from 1945 to 1949 and even grinds down the rocks himself. Zieger is followed by Hubicky and the Caha-Eberl duo. 

1963 The mine is officially restored to lawyer Karl Gaab. His supervisory staff at the mine and at the Goldschmidt hut had been students from Munich for many years. 

1975 Sebastian Berger, together with Klaus Wenzel and Heinrich Hammerle, apply to Dr. Gaab for the supervisory posts. Disputes and mutual distrust revolving around the find of extraordinarily large phenakites soon lead to the three parting ways, with Berger retaining sole supervisory controls from 1976 on. He secures the gallery entrances with iron doors, has a trailer helicoptered in close to the mine, and drives the galleries many meters further into the mountain. The some 10-year Berger era has proven, both with regards to finds and scientific research, very productive. 

1986 Berger, who had been suffering from psychological problems for years, tragically commits suicide. Alois Steiner and Alois Hofer, both mineral collectors from Bramberg, are given the supervisory roles from 1986 on. The Goldschmidt Hut, which was in very poor condition, is restored with painstaking effort and has since served as accommodation for the mine tenants. Mining inside the mountain, due to very unstable rock strata and inadequate supports, proved very difficult, with much time and energy having to be expended in order to secure the existing mine gallery. Since the beginning of the 90's, the Steiner family (Alois Hofer ended his involvement) has possessed the rights to dig in the emerald mine. After the death of Karl Gaab (2000), his daughter, Ingrid von Klitzing, has been sole owner of the emerald mine
Would you like to conquer the inspiring natural surroundings and the mountainous setting of this valley? Well that is not a problem; we will be delighted to take you there and back on the "Smaragdexpress".
Departing time from parking ground Habachtal to the Enzianhütte and to the Alpengasthof Alpenrose:
May and June: 9 a.m., 10 a.m., 1:30 p.m. and 4:30 p.m.
July, August und Septemer: 7:45 a.m., 9 a.m., 10 a.m., 1:30 p.m. and 4:30 p.m.
1. October - mid-October: 9:30 a.m. and 1:30 p.m.
Departing time from Enzianhütte or Alpengasthof Alpenrose:
May - September: 2 p.m. and 5 p.m.
1. October - mid-October: 2 p.m. and 4 p.m.
Pre-registration is essential: Tel. +43 664 3420609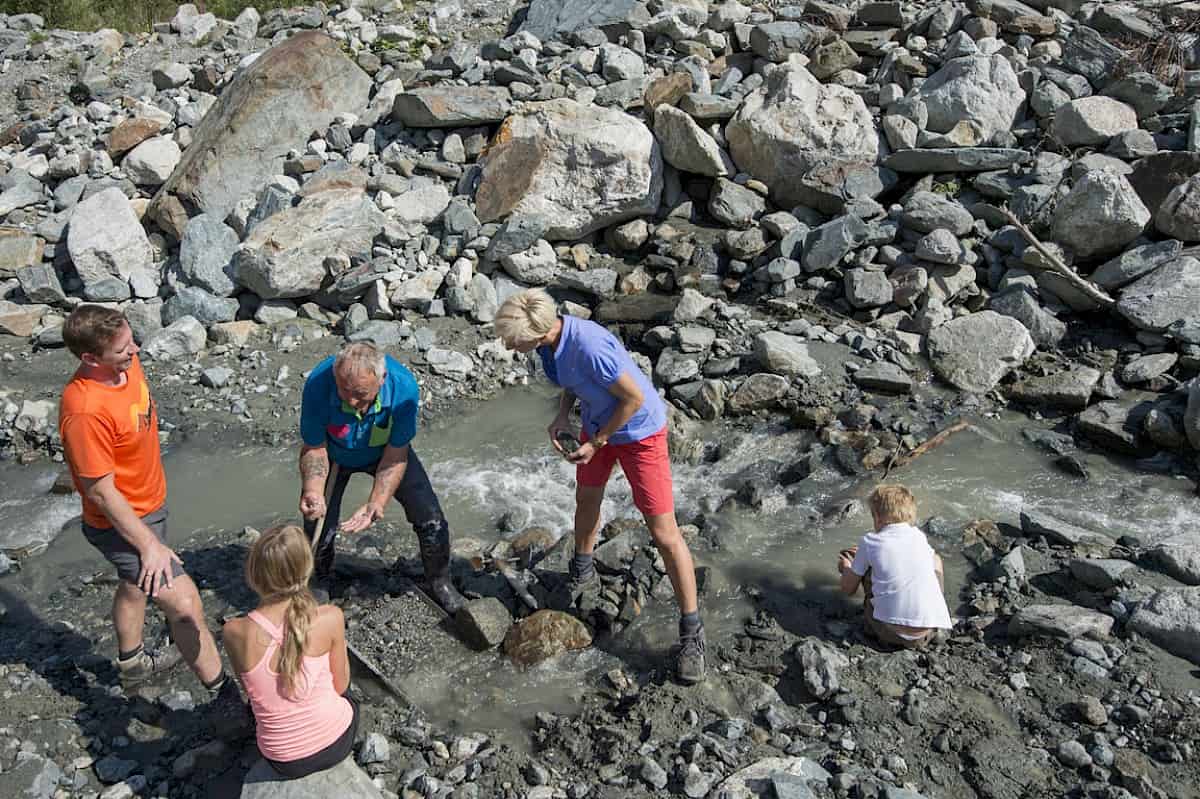 Digging for emeralds
2 x weekly from mid/end of May – early/mid of October
The "Emerald Express" will take you from Bramberg to Habachtal valley as far as Almgasthof Alpenrose. There you will get to hunt and dig for various minerals, especially emeralds. At about 5 pm you will return by taxi to Bramberg, tired and hopefully with a pocket full of "riches"! 
National Park exhibition at the Museum Bramberg
The exhibition "Emeralds and Crystals" is a true treasure of the Hohe Tauern as it features some of the most beautiful findings of emeralds, rock crystals, epidotes and many other locally found treasures.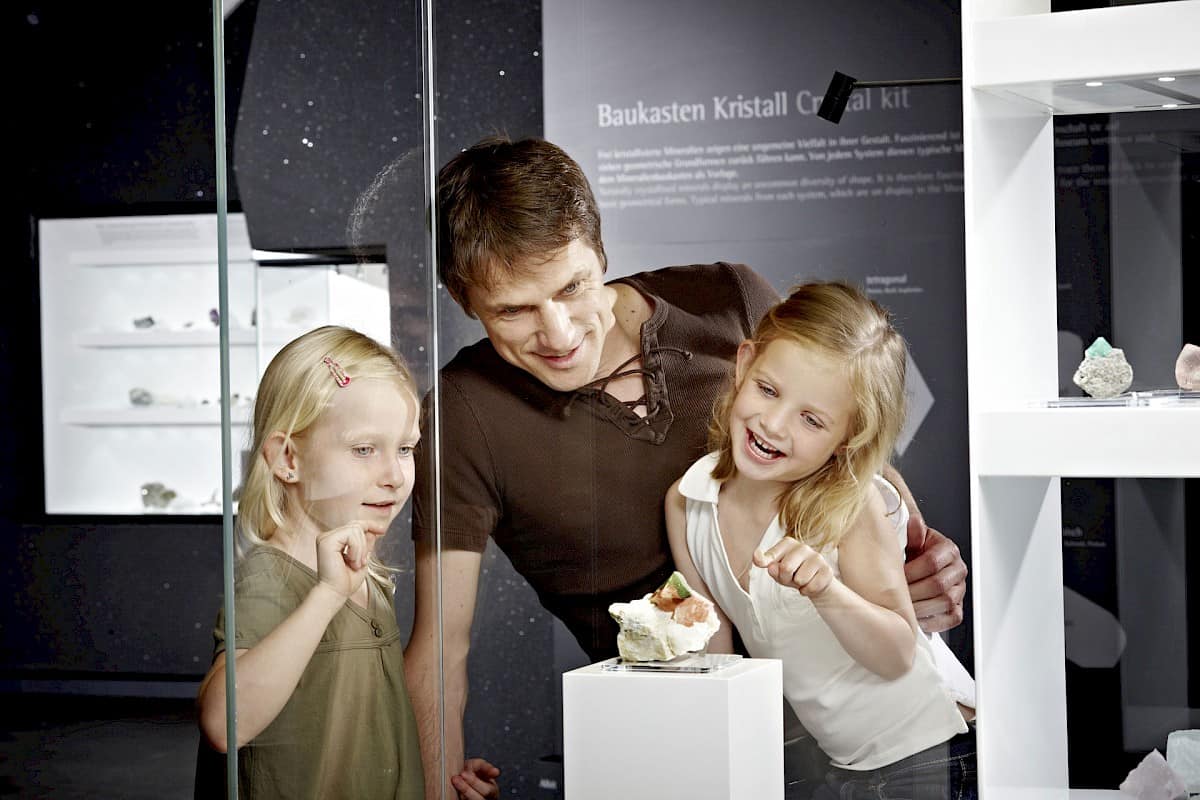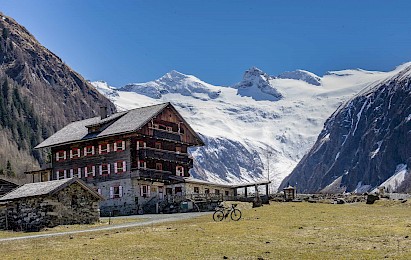 Contactinformation
1.384 m
Habachtal
Familie Egger
Alpengasthof Alpenrose
Alpengasthof Alpenrose in Habachtal is also an ideal starting point for mineral hunters.
You can reach the Alpenrose either by Valley Taxi or on foot - taking about 2 hours to hike. This inn is open from mid-May until mid-October.
Enjoy your holidays in a warm, friendly atmosphere. The Alpenrose serves local specialties and pastries.
35 beds as well as a mattress dorm (group accommodations) for around 30 people are available for those wishing to spend the night.
Also provided is a beautiful shower room along with a drying room for boots and clothing.
Located right next to the inn is a site where you can pan for emeralds.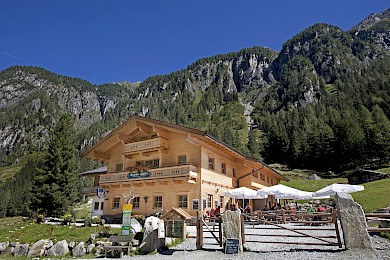 Contactinformation
1.312 m
Habachtal
Familie Blaikner
Enzianhütte
The Enzianhütte in Habachtal serves as an ideal base for mineral collectors.
The Enzianhütte can be reached either by Valley Taxi or on foot - the hiking time is around 1 1/2 hours.
The hut is open from mid-May until mid-October.
Once at the Enzianhütte, you can quench your thirst as you are treated to delicious treats from their own organic farm.
If you need accommodations, 28 beds along with a mattress dorm provide space for around 20 people to spend the night.
Contactinformation
1.410 m
Habachtal
Familie Hollaus
Alte Moa-Alm
The Moa-Alm has been in its original state since 1771, the oldest hut in the Habachtal.
Easily accessible for hikers and mountainbikers.
Whole-day warm kitchen, homemade food.
Cooked on a wood stove (about 70 - 80 years old)
Simple, quaint, cozy, good ...
The Alte Moa-Alm is open from mid/end May to mid/end October from Tuesday to Sunday from 10:00 to 17:00, depending on the weather.
Monday day off!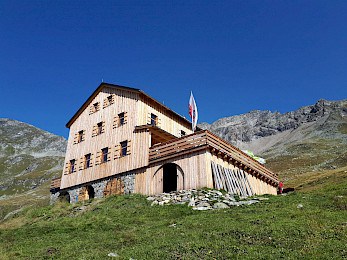 Contactinformation
2.240 m
Habachtal
Andreas Eder
Neue Thüringerhütte
The Thüringerhütte is a hut managed by the Alpine Association and is open from mid-June until the end of September.
Naturally, at the Thüringerhütte they are pleased to serve you a delicious selection of homemade foods.
You can also spend the night in one of 50 sleeping-bag spots or one of 30 beds.
To reach the Thüringerhütte, you can take the Valley Taxi to Alpengasthof Alpenrose.
Once there, you will hike between 2 1/2 (via the Noitroi) and 3 1/2 hrs. (regular trail) until you arrive at the Thüringerhütte.