Grossvenediger - his ancient majesty
Climb to the top of Salzburg's highest peak
The Grossvenediger is frequently referred to as "his ancient majesty" due to its imposing appearance and the fact that, at 3657 m above sea level, it is the tallest mountain in the province of Salzburg. It was long regarded as unclimbable and even the Grossglockner, the highest mountain in all of Austria, was conquered a number of years before the Grossvenediger.
This striking, glaciated mountain is part of the Venediger Group in the Hohe Tauern range. It was first climbed by intrepid mountaineers in 1841.
What many people don't know: The name of the Venediger Group in the Hohe Tauern mountains likely originated with the traveling merchants who once crossed the Tauern range on their way to Venice ("Venedig" in German ), or from the fact that, when visibility is just right on a perfectly clear day, it is believed you can see all the way to Venice, which is 180 km away as the crow flies.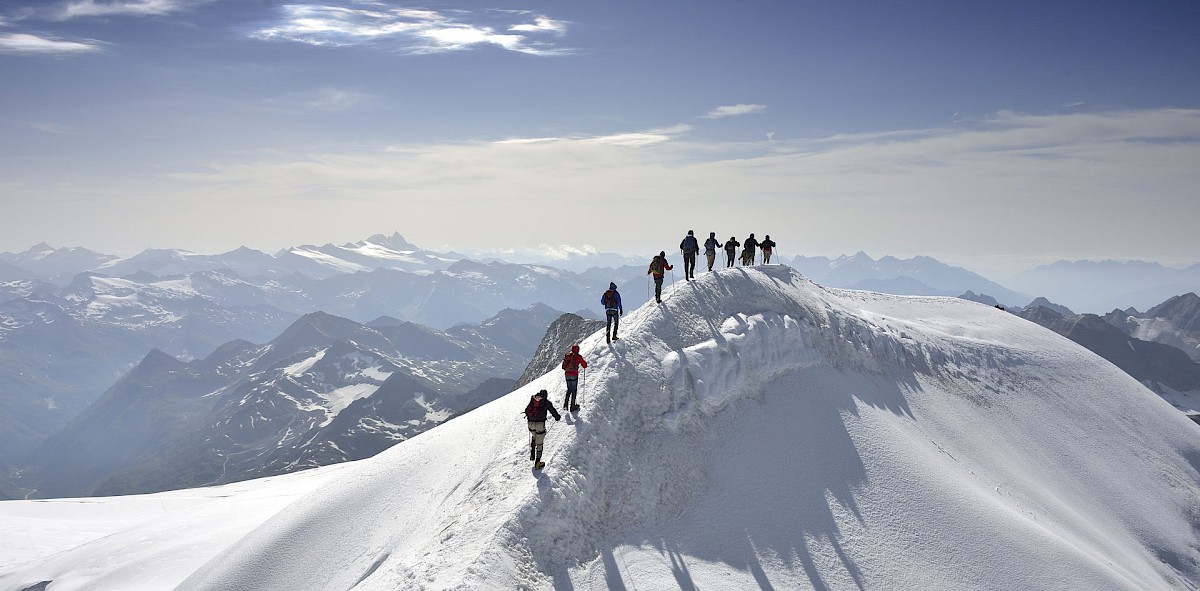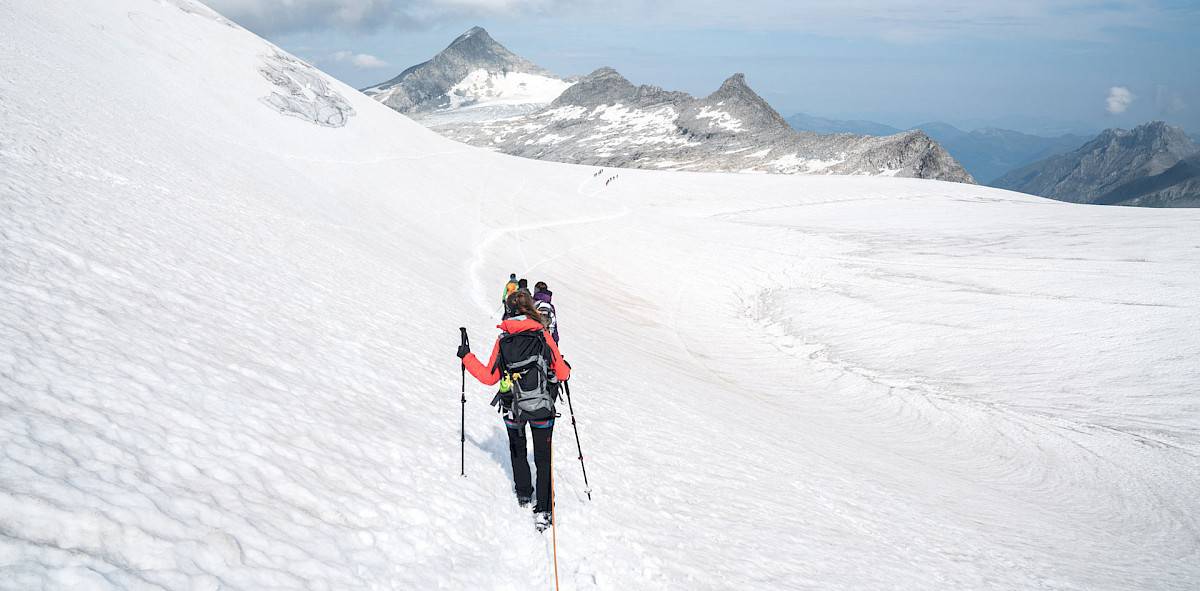 Großvenediger-Tour
Salzburg's highest 3000 m peak can be taken on as part of a 1 ½ day tour that sets out from Obersulzbachtal, including one night spent at the Kürsingerhütte - the ultimate challenge for surefooted summiteers in top physical condition.
The ascent from the north, the route taken by the mountaineers who first conquered the mountain, treats you to landscapes that are nothing less than magnificent. On the first day, you will hike independently up to the Kürsingerhütte. The preceding valley hike along the roughly 13 km-long Obersulzbachtal can be shortened significantly with the help of the hiking taxi. Once you reach the goods lift for the Kürsingerhütte, you have the choice of either taking the regular trail, known as the "Klamml", up to the hut, or following the path in the direct action of the glacier lake, ascending along its northern shore via the Kürsinger via ferrata to the hut. (Important: Here, you will need a climbing harness and a full set of via ferrata gear, including helmet!)
The next day, you will set out bright and early with the mountain guide. Still led by the light from your headlamp, you will make your way towards the start of the glacier. Here, you will rope up and, if needed, put on your crampons. Now comes a steady climb, past imposing glacial crevasses, towards the Venedigerscharte. The last few meters to the summit cross take you across a very exposed snowy ridgeline.
Overview of all state-certified mountain guides
Mountainguide Office
Between the Kitzbühel Alps and the Hohe Tauern, the ideal setting for outdoor sports, training and recreation, we are your partners when it comes to safety and pure enjoyment in the open countryside.
High-alpine tours
Ridgeline scrambling
Ski tours for beginners/advanced
Freeride & variant skiing
Snowshoeing
Ice climbing
Avalanche safety training 
Training: crevasse rescue, basic glacier training, basic mountain traverses, touring weeks, special programs for groups, teambuilding, incentives and much more.
Alpin- & Adventure School Unterwurzacher
We guarantee the perfect summer holiday!
Experience the pure spirit of adrenaline – because we have got just the right package for our friends of action! This includes a mega flying fox, a fox park, a high-rope garden, a climbing route (via ferrata), canyoning, tubing and a lot more adventures!
Reaching high altitudes! Our outdoor programme offers high-alpine tours for all the mountaineers and summiteers. They include the Großvenediger, Großglockner, Gabler, and many more…
Take an exploratory trip and hire one of our mountain or trekking bikes! These bikes, made by leading manufacturers, ensure an effortless trip along the cycling tracks of the Oberpinzgau and into the surrounding valleys. Slow down the pace or speed up – you can do whatever you like.
We have material aplenty for the perfect summer holiday! Whatever else you might need related to sports equipment, you will find in our shop in Wald. Just ask one of our well-trained staff, they will help you gladly.
Make sure you stop by – Gunter Unterwurzacher and his team are looking forward to your visit!
Hohe Tauern Guide, Bergführervereinigung
Hohe Tauern Guide In summer, we accompany you on high tours of Salzburg's tallest mountain – the Grossvenediger, either as part of an alpine touring course or on a glacial trek from Krimmler Achental to Obersulzbachtal – or are you more in the mood for a little bit of rock climbing? In that case, the "Kronprinz Rudolf", a family-friendly fixed-cable climb, close to the Rudolfshütte in Stubachtal, is probably just what the doctor ordered. 
In winter, too, you can experience your own personal adventure with us. Be that a ski tour, including the thrill of a glacier, to the top of the Stubacher Sonnblick, a beginner's ski tour of the Ronachgeier in the Kitzbühel Alps, or, in springtime, a high-alpine ski tour in the Hohe Tauern. Whatever you prefer, we will be right there at your side during your personal mountain adventure!  For a great alternative to skiing, how about snowshoeing through incomparable winter landscapes. However, if you are in the mood for a little more action, maybe ice climbing with the experts from Tauernguide is just what you're looking for.
Alpindis, Daniel Breuer
Work, stress, reports, stats, deadlines, annoying bosses. Enough! A pair of hiking boots, a rucksack, a good mountain guide and out into nature. A rushing stream, alpine meadows, then things gradually take a turn for the better. With my destination clearly in mind. With every drop of sweat that runs off my brow, the pressure eases. Finding my way back to who I truly am. Letting go. Escaping completely.
Summiteering Adventures
Superbly trained as state-certified mountain- and ski guides, we bring you safely to your destination. In this way, you are able to experience your mountain adventure to the absolute fullest.
Alpine Climbing
As passionate alpinists, we live for our profession. We make every effort to cater to all of your needs and wishes, in order to guarantee your safety and allow you to have a wonderful time.
With a sense of fun and joy, we lead you to the top of the most beautiful and breathtaking summits, so that you have an absolutely magical time in the mountains.
Safety is always job one! We spare no effort to insure courses and guided tours that are near-perfect when it comes to safety and quality. And because our employees regularly attend courses to update their skills, we are able to offer the very latest standards of technology and safety.
Yet another reason we can guarantee such exceptional quality is the small size of our groups, tailored to the types of courses and tours, so that we can give everybody the attention they need and deserve, and so that we can achieve the highest success rate possible. In order to conquer the mountains as safely and comfortably as possible, we also provide modern equipment for participants to borrow, regularly inspected and maintained to the highest standards.
Berge leben - Hans-Peter Breuer
As a mountain guide I am allowed to accompany other nature and mountain enthusiastic people on ski tours, freeriding, climbing or in the high mountains, so that they reach their summit goals on safe way.