Hiking and Refreshments in Mühlbachtal
Ideal for families and casual hikers
Via the Wildkogel and the Bramberger Sonnberg, you will come to Mühlbachtal, a valley very popular with hikers as well as mountain bikers. The marvelous views you have during your outing, can also be enjoyed as you take a refreshment break at the Baumgartenalm.
Taxi to Mühlbachtal
Tel. +43 664 4452415
Departs Bramberg village square 10 a.m. 
Departs the Baumgartenalm: 3 p.m. + 5 p.m.

Pre-registration is essential!
Huts in Mühlbachtal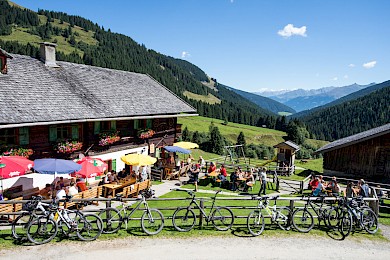 Contactinformation
1.402 m
Mühlbachtal
Catherine & Hans Fuchs
Baumgartenalm
On the Grosser Rettenstein, reachable in about 2 hours from the mountain station of the Wildkogel lifts via the Geisl Hochalm or the Haferlalm. 
Hearty snacks, including homemade mountain cheese.