Breakfast in Bed
Start the day with a "Guat drauf" Pinzgau breakfast
The way holidays are meant to be: Sleep in, then get your day started with a delicious breakfast delivered fresh to your door by your host. The Breakfast Bag is filled with regional products which, once empty, will be refilled for you again.
Regional products in the Breakfast Bag
This bag is stuffed full of everything you desire for a perfect culinary start to your vacation day: seasonal jams, fresh milk, butter and yogurt from the Pinzgau Dairy, apple juice from the Bramberg Fruit Press, cheese, eggs, bacon, ham, fruit, vegetables and freshly baked bread from nearby farmers, whole-grain cereals, even finest honey from beekeepers in the Oberpinzgau region. And if you happen to have any special wishes or food intolerances, simply let your host know when you place your order. The products are seasonal and regional – meaning that the contents of the bag will vary according to when you take your vacation.
If you book in advance, this bag will be waiting for you when you arrive at your accommodations – with payment made directly to your host.
The Pinzgau Breakfast Bag is offered by many apartment providers.
The Pinzgau "Guat drauf" breakfast for 2 people or a 4-member family can be booked either in advance or during your stay from your lodging provider.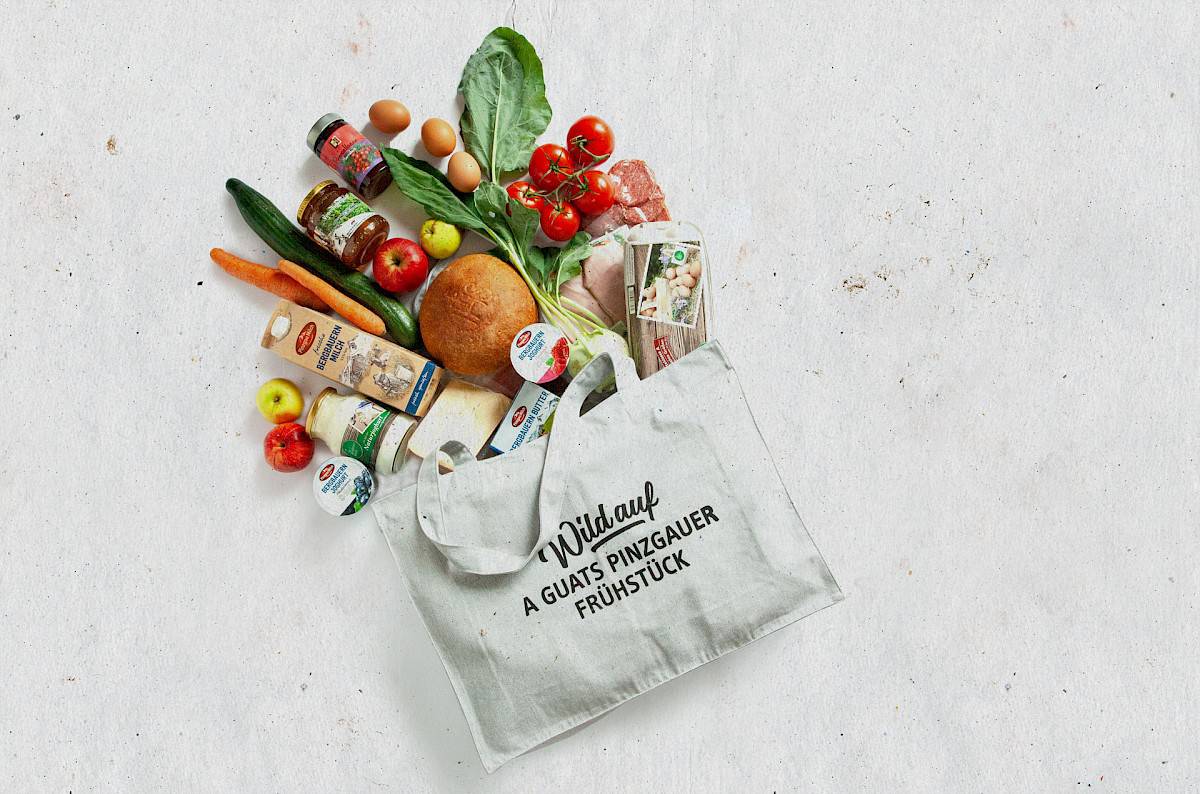 Breakfast price for 2 people: € 40,00
Breakfast price for 4 people: € 55,00

1x Pinzgau dark bread
6x eggs
2x apples
1x seasonal vegetables
1 x ham 100 g
1x hard sausage 100 g
1x Bramberg apple juice
1x sliced cheese
1x natural yogurt
1x fruit yogurt
1x Pinzgau whole milk
1x Pinzgau butter
1x honey 250 g
1 x jam

1x Pinzgau dark bread
10x eggs
4x apples
1x seasonal vegetables
2x ham 100 g
2x hard sausage 100 g
1x Bramberg apple juice
2x sliced cheese
2x natural yogurt
2x fruit yogurt
1x Pinzgau whole milk
2x Pinzgau butter
1x honey 250 g
1x jam
Doris Oberlechner opened her organic shop "Guat Drauf" in the center of Neukirchen in September 2019 – she tells us: "I really value the products from our local farmers. But I really didn't want to have to drive from one farm to the next in order to buy all my staples. Which led me to open my organic food shop 'Guat drauf'. Here, I have managed to bring together the best products from my home region and now give locals and guests a single stop where they can do all their shopping. You can buy lots of Pinzgau specialties here, including a great selection of dumplings, cheesy "Schotten" and our good apple bread. Really delicious and healthy ready-to-serve meals, including potted game meats from 'Franz ganz Wild', are also very popular with guests."