Enjoy your holidays in the Wildkogel Arena in all kinds of weather
Don't let your holiday experiences depend on the weather.
In and around Wildkogel-Arena Neukirchen and Bramberg, you will discover an almost infinite selection of recreational activities that will make your summer holiday with us something truly special. And the weather never has to be a major factor!
Though you certainly do have the opportunity to swim in numerous indoor pools, enjoy total relaxation in the hot tub or sweat away the stresses of daily life in the sauna, you can just as well experience an array of cultural highlights. Numerous fascinating museums invite you to pay them a visit, you can tour historic mines, while a vintage steam train promises a breathtaking, nostalgic ride through beautiful countryside.
These, and many other highlights await you. Here with us, every day becomes a memorable experience - and totally independent of the weather!
Overview of our All-Weather Program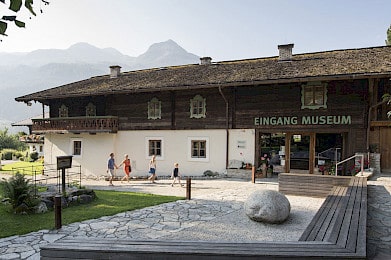 Contactinformation
Museum Bramberg
Bramberg Museum has been housed at the Wilhelmgut, one of the oldest buildings in Bramberg, since 1979. The collection of pieces documenting local history and folk heritage began at the end of the 1950s and has been constantly expanded ever since.
To make it easier for visitors to find their way around Bramberg Museum, a color-coded navigation system leads through the various collections. In the lower section of the house, an impressive National Park exhibition casts light on the mineral wealth of the Hohe Tauern, allowing you to gaze upon the sparkling emeralds that have made Habachtal valley world famous. Remodeling work and additions conducted in 2010 gave the mineral department at Bramberg Museum a whole new, and more modern look.
The upper portion of the house is dedicated to regional and local cultural history. Here, you learn more about the history of the Wilhelmgut itself, about life as it was once led in the "emerald village" of Bramberg am Wildkogel, religious folk art, along with the diverse flora & fauna of the region. On the top floor, you will find yet another focus of the museum: an exhibition of beekeeping through the ages, including a living beehive.
Even the outdoor area of Bramberg Museum is well worth exploring, featuring 11 original buildings and a mining section.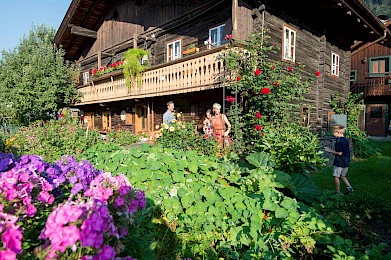 Contactinformation
Samplhaus
The Samplhaus in Bramberg is a place of encounter. The focus is on people and their place in society. In keeping with this theme, an events series was created known as "Looking over the fence".
The Samplhaus in Bramberg has actually existed since about the year 1500 and, for the most part, is still in its original condition. The harmonious and authentic interior of the house was renovated with painstaking care, its rustic rooms now used for special events including exhibitions and seminars.
In front of the house is a beautifully tended garden. Visitors can also view a traditional Pinzgau hay barn, a wind harp and a religious way-side altar.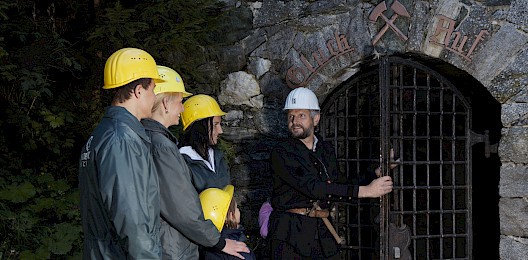 Contactinformation
Historic Hochfeld Mine
Are you interested in the life once led by workers at an old copper mine? Would you like to immerse yourself in the world of the distant past and discover just how hard the working conditions must have been back then? If so, be sure to stop by the historic Hochfeld mine, located in the lower Untersulzbachtal valley. During a guided tour lasting from 90 to 120 minutes, not only will you experience how copper ore used to be mined here for the better part of half a millennium until 1954, you will also learn about how the minerals were created in the first place. And thanks to the so-called "Tauern Window", you will also be able to marvel at the geological diversity of the Hohe Tauern range. And if you decide you want to walk from Gasthof Schütthof to the Hochfeld mine, along the way you will also pass the Untersulzbach Waterfall natural monument. So, during your excursion you will actually get to experience two fascinating attractions in the heart of the Hohe Tauern National Park Holiday Region.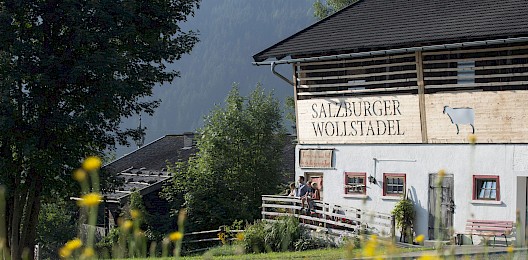 Contactinformation
Salzburger Wollstadel
At the Salzburger Wollstadel in Bramberg am Wildkogel in Hohe Tauern National Park Holiday Region, sheep's wool is processed with boundless craftsmanship, thought and care into beautiful products, which visitors are welcome to purchase.
Here at the "Stadel", you have the opportunity to buy handmade and contemporary knit jackets made from the wool of mountain- and Merino sheep, timeless slippers, warm hand-knitted caps, beautiful lifestyle accessories and much more. In addition, you can also order individually tailored knitwear items, which will then be created with loving attention to every detail.
And if you wish, you are welcome to take part in a felting course for big and small - a great experience for the whole family!
Stop by and allow yourself to be captivated by a wide selection of regional products. Who knows, perhaps you will also discover a gift or two for your loved-ones back home.
Hohe Tauern National Park Center
National Park Worlds Mittersill is an 1800 m2 world of Alpine fascination, one that is certain to captivate you completely. At ten different interactive stations, discover the imposing Hohe Tauern National Park with its unique flora & fauna and the highest peaks in Austria.
Just one highlight of the Hohe Tauern National Park Center is an over 50 meters-long projection screen which, with the help of brand-new projectors, will treat you to a one-of-a-kind 360° nature adventure. Thanks to this 360° panoramic world, you will learn all about how Hohe Tauern National Park was created and developed, able to experience its summits, streams and forests from different perspectives.
Next to it, in the National Park Worlds Mittersill "Treasure Chamber", you are greeted by sparkling crystals from the region. You will also be able to explore the underwater world of a mountain stream and discover the imposing world of glaciers. This, and so much more, awaits you at the Hohe Tauern National Park Center.
Kristallbad Wald
The water you swim in at Kristallbad Wald is reenergized with the help of crystals from Hohe Tauern National Park as well as "Grander" waters. Experience the rejuvenation that comes from the 30° C water for yourself when you visit this indoor pool in Wald im Pinzgau.
With a total water area of 300 m2, Kristallbad Wald provides more than ample space for swimming and recreation. Aside from the indoor pool,  there is also an outdoor one, open both summer and winter. Adventure-lovers can also look forward to a 50 meters-long water slide.
And if you want to unwind completely, you have the opportunity to sweat away all your stress in  one of the different saunas, feel on top of the world in the steam bath, or simply enjoy a beneficial timeout in the quiet zone. Or would you prefer a relaxing massage instead? That's possible, too, of course. We wish you a revitalizing time spent with us at Kristallbad Wald!
Sixty Minutes - Live Escape Game
The ultimate Escape Room experience for teams of 2 to 12 people. Find the clues, solve the puzzles and escape the game within sixty minutes! Exciting leisure activity for young and old – perfect program also in case of bad weather.
TAUERN SPA Zell am See – Kaprun
Look forward to a gigantic indoor aquatic world, featuring an exercise pool with counter current, an above-ground pool, plus numerous relaxation zones. In the outdoor area, you actually have three pools to look forward to: A saltwater relaxation pool with music, a lap pool and an activity pool. And if you are in the mood for added exercise along with soothing relaxation, you also have the option of taking part in courses that are offered daily. How about, for example, some step aerobics. aquacise or even Pilates?
If you like nothing more than to enjoy a healthy sweat in a sauna or steam bath, the Tauern Spa will also be the perfect place for you. With numerous special infusions, you are certain to be thrilled. Afterwards, it will be time for complete peace & quiet. You will find this in the aesthetically designed relaxation areas of our Sauna World. And if you want even more, why not treat yourself to a massage, a feel-good treatment or one of the other pampering programs offered at Tauern Spa Kaprun. Child care is available for youngsters ages 3 and up.
Giant Ice Caves
The world's biggest ice caves
A cave system extends over 40 km through the depths of the craggy limestone massif of the Tennengebirge, containing an absolutely unique natural phenomenon.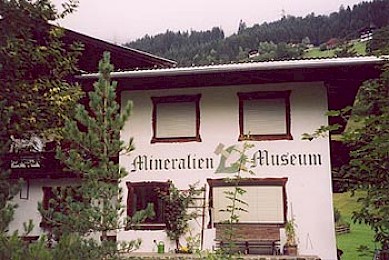 Contactinformation
Mineral Museum in Wald
The Mineral Museum in Wald was created by Kurt Nowak, a dedicated mineral collector. The museum presents complete mineral communities from the Salzburg region of Hohe Tauern National Park. That said, the hundreds of exhibits also feature some from the Zillertal Alps. To provide a better overview, the various minerals are arranged and categorized by the valleys in which they were discovered.
Aside from simply being able to browse Kurt Nowak's continually expanding collection, Wald Mineral Museum also presents fascinating scientific information as well as numerous illustrations of where they were found, the landscapes, as well as the often strength-sapping and occasionally dangerous work that goes into recovering crystals.
Please contact Kurt Nowak in advance!
Kogler Indoor Pool
So, is the weather not "cooperating" during your holidays? Or, do you simply want to enjoy a full day unwinding and forget the outside world? If so, the indoor pool at Sporthotel Kogler in Mittersill is definitely something for you.
While you swim a few laps in the indoor pool here in Mittersill or "melt" into the bubbling waters of the hot tub, your children have the chance get the adrenaline pumping as they enjoy a 60 meters-long giant slide. And the smallest youngsters will be able to splash about in their very own paddling pool.
At the indoor pool in Mittersill, you can look forward to spending a reenergizing day filled with relaxation.
Felberturm Museum
Mittersill Museum is located in the Felberturm, which was originally built in the 12th century and served as both residence and fortification for the Lords of Felben. Refunctioned into a granary in the 15th century, for 4 centuries afterwards it remained as nothing but ruins.
Finally, in 1969, the Felberturm Museum in Mittersill opened its doors again. The Felberturm was renovated from the ground up, becoming the proud home of the local heritage museum. Today, on three floors you can view exhibits that include rural craftsmanship, folk traditions and popular culture. In addition, rotating special exhibitions promise constant variety. Also belonging to the museum are a small museum of fire fighting, an old Pinzgau farmhouse and presumably the oldest schoolhouse in Mittersill, dating back to the year 1609.
Felberturm Museum Mittersill boasts one of the most extensive collections of folk-heritage objects in all of Salzburg province.
Aquarena Kitzbühel
Whether the sun is shining, it's pouring down, or the green meadows have been transformed into a whiter winter wonderland – Aquarena Kitzbühel is a great, reenergizing experience in all kinds of weather.
This bathing paradise is located in the heart of Kitzbühel and, thanks to its bathing and sauna facilities as well as numerous wellness amenities, provides lots of opportunities for relaxation and wellbeing. And while you spend a peaceful time at Aquarena Kitzbühel, your kids can be as active as could be on the adventure-packed water slides.
After a visit to Aquarena Kitzbühel, you will feel like you have been reborn. Escape the outside world completely, and dedicate yourself body & soul to this rejuvenating experience in and around the water.
Candle World in Bruck
Still need some souvenirs of your vacation in the Hohe Tauern mountains? Or do you simply love the wonderful world of candles? If so, you should definitely stop by Candle World in Bruck. Here, you can purchase the widest variety of handmade candles imaginable.
Whether in the form of an animal, flowers, or just the standard rounded shape - at Candle World in Bruck, you can truly feel the creativity that went into each of these wax pieces. And the custom-made candles at Candle World in Bruck, especially, are a big hit with visitors. Have them create a candle inscribed with your own wording, sure to bring joy to your loved-ones back home.
Zell am See Indoor Pool
Aside from an indoor ice rink, bowling lanes and much more, the recreation center in Zell am See is also home to a modern pool facility for sports and relaxation.
At this indoor pool in Zell am See, children and adults alike all find their own piece of heaven. A 74 m-long water slide promises exciting experiences in the water, a diving platform demands you overcome all of your fears, while in the 25-meter swimming pool you can also enjoy massage jets and bubbles percolating up from the pool bottom. A soothing steam bath promises even more recreation at the indoor pool in Zell am See. Or would you perhaps prefer a massage? That's possible, too! And the youngsters are sure to have the time of their lives playing on the pirate ship in their very own paddling pool.
As you can see, nothing stands in the way of taking a trip to the indoor pool in Zell am See - not even the weather! We hope you have a fantastic time.