Alpine Safety
Explore our mountains in safety.
For greater safety in Austria's ski areas
Here you will find the latest weather and avalanche reports as well as lots of information about road and piste conditions.
Please follow a few simply rules

The toboggan run closes at 10.00 pm (the floodlighting is turned off at 10.00 pm)
Stay in the designated waiting areas and under no cirumstances in the curve sections of the run.
Cross the toboggan run only in clearly visible places.
With a high frequency of tobogganing, distinct wave formations may form in the snow. We ask that you adjust your speed based on the toboggan run conditions.
Always keep the toboggan strapped to you to avoid unnecessarily endangering your fellow tobogganers and losing your toboggan.
In order to truly enjoy your ride, appropriate clothing is necessary. We especially recommend ski goggles, scarf, cap, ski pants or gaiters, gloves, sturdy boots - no ski boots. Children up to 6 years old should be accompanied by parents on a toboggan ride! Tip: tobogganing with a helmet will be even safer!
Be considerate of other tobogganers. Behave in such a way that no other person is in danger or can be injured.
Do not toboggan if you are impaired by alcohol. Such substances reduce the ability to react and properly assess danger.
Tobogganing on ski slopes is dangerous and not allowed.
Pay attention to all barricades and warning notices.
And if you need up-to-date information about sledding (closures, opening times etc.), simply call our sledding hotline. The telephone number is: +43 6565 39800

Ski Helmet Requirement in Austria

Minors under 16 years of age must wear a standard commercial winter sports helmet whenever using the ski slopes to participate in winter sports.  

Parents, guardians or chaperones are responsible for insuring to the greatest possible extent that those in their charge comply with this requirement.
Head protection must also be worn on maintained pistes when using all types of winter sports equipment, such as ski bobs and toboggans. 
The helmet requirement only applies in the following Austrian provinces: Salzburg, Upper Austria, Styria, Lower Austria, Carinthia, Burgenland and Vienna. 
No legal requirement is currently in effect in the provinces of Tyrol and Vorarlberg. However, Vorarlberg has issued a public recommendation that ski helmets be worn.
The law does not foresee inspections to insure that the helmet requirement is being met. Guardians are also not subject to penalties if a child does not wear a helmet. The intent is purely to make people clearly aware of the dangers associated with children skiing or snowboarding without a helmet.
That said, failure to comply with the helmet requirement may result in problems with insurance providers, who may refuse to cover costs resulting from an accident. 

Nonetheless, outfitting children under your supervision with helmets (which can be borrowed either for free or at minimal expense from area rental centers as well as ski schools) is the most sensible step, since most skiing accidents also involve a high risk of severe head injury – with a helmet, you can significantly reduce the risk of major head trauma.
Top info on your mobile device
Thanks to the lift app, you will always have the information you need at your fingertips, even when you're out and about. Usable without an Internet connection, it provides you with complete info about lift schedules, toboggan runs, current weather conditions, news, plus an SOS emergency feature as well as panorama cameras.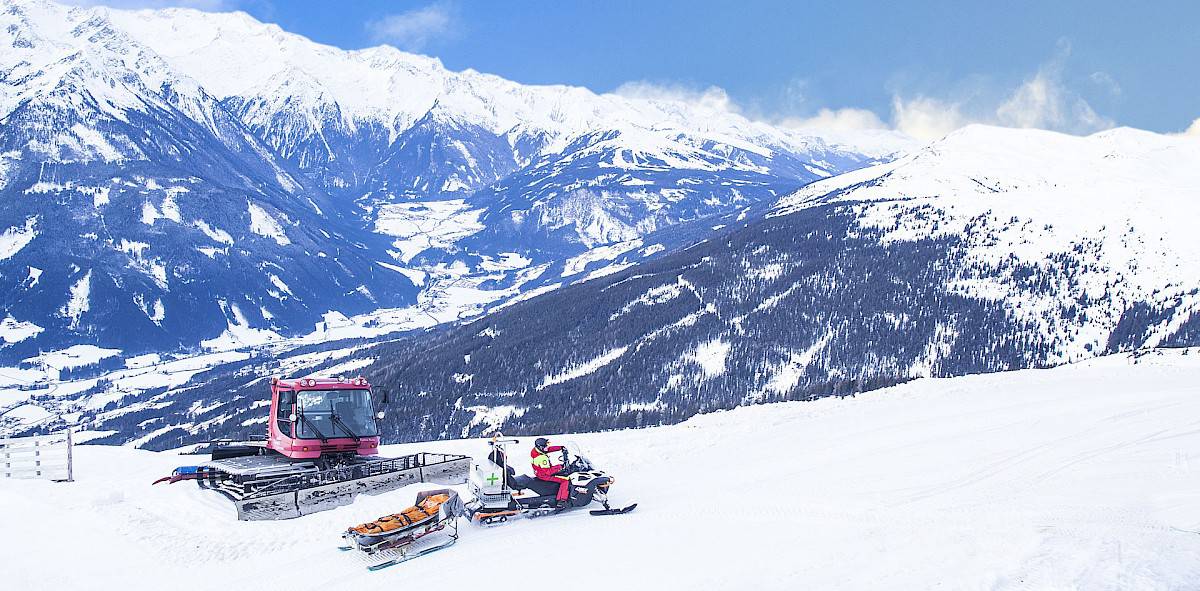 Slope rescue
Tel. +43 676 843225504 or 140 or at any lift station!
We request your understanding that rescue costs are charged (€ 130 or € 240 from 4:30 p.m.). Helicopter rescue costs are not included in this amount. Our slope and rescue service only monitors marked and open slopes - you enter open terrain at your own risk.