Untersulzbach Waterfall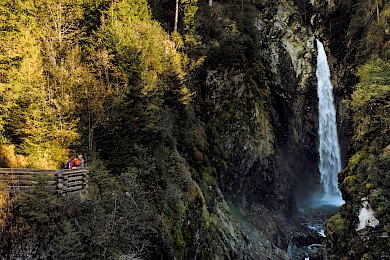 Contact information
Located in Hohe Tauern National Park, at the entrance to Untersulzbachtal valley, Untersulzbach Waterfall treats visitors to a wonderful visual spectacle. Alongside this ca. 80 meters-deep waterfall canyon are viewing platforms allowing you to enjoy fantastic views of the thunderous torrents of water.
From Neukirchen am Grossvenediger, you can make your way to Untersulzbach Waterfall, enjoy a family-friendly hike through the Untersulzbachtal and discover the glorious natural setting for yourself.
Look forward to the beautiful forested landscapes of Hohe Tauern National Park, including the impressive sight of Untersulzbach Waterfall.