Safe mountain biking in the Wildkogel-Arena
Correct mountain biking habits
Mountain biking is one of the most beautiful things you can do in the mountain world of Salzburger Land. To stay in harmony with nature and not cause damage to native plants and animals, it is vital to follow a few simple rules. In that way, future generations will also be able to get the most out of their experiences in nature as well.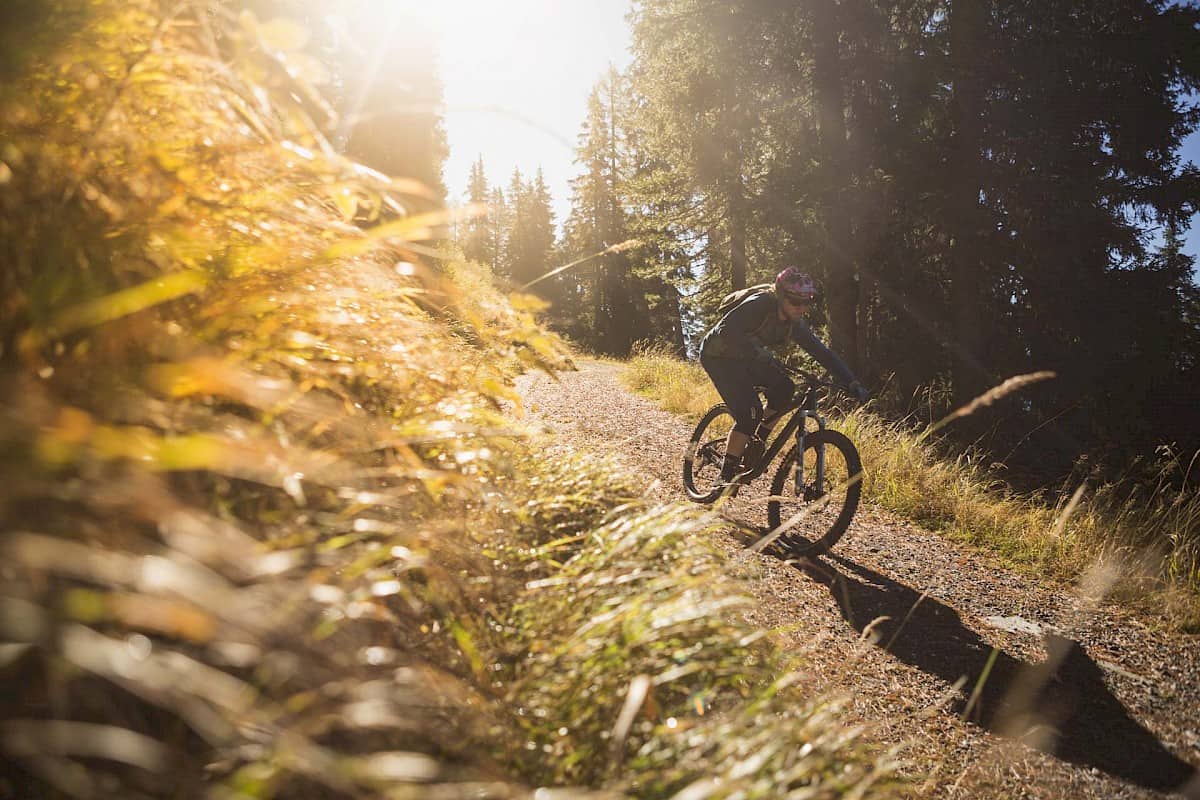 Healthy approaches to biking
One of the most frequent reasons for mountain biking accidents is people who overestimate their abilities. This applies to technical expertise, but also to strength and conditioning. Biking is an endurance sport and can quickly take it out of you. Which makes it even more important to evaluate your abilities realistically and be willing to call it a day earlier than you might have hoped. After all, nothing is more frustrating than only wising up after the fact.
Plan carefully
Planning and preparation are half the story. Also when it comes to biking. Only then can you enjoy the freedom up on your saddle without a care in the world. What's the route, what challenges can be expected, and are the expectations and abilities of all participating mountain bikers a good match? In order to answer these questions accurately, you need to study books, maps and accounts of personal experiences. Online as well as offline. And then there's the weather, which experience has shown can change far more rapidly than you might like. 
That said: Adapt your planned tours to current conditions, just to be on the safe side.
Only ride on authorized paths
Of course, we all want to be free to ride through the mountains however we please. But there are limits, and they need to be respected. In order to protect native flora and fauna, stay out of the way of local farmers and forestry workers, and respect the rights of property owners, you should only ride on authorized roads and paths, and you must comply with local closures. Nothing is more unpleasant than having legal issues after completing a great bike tour.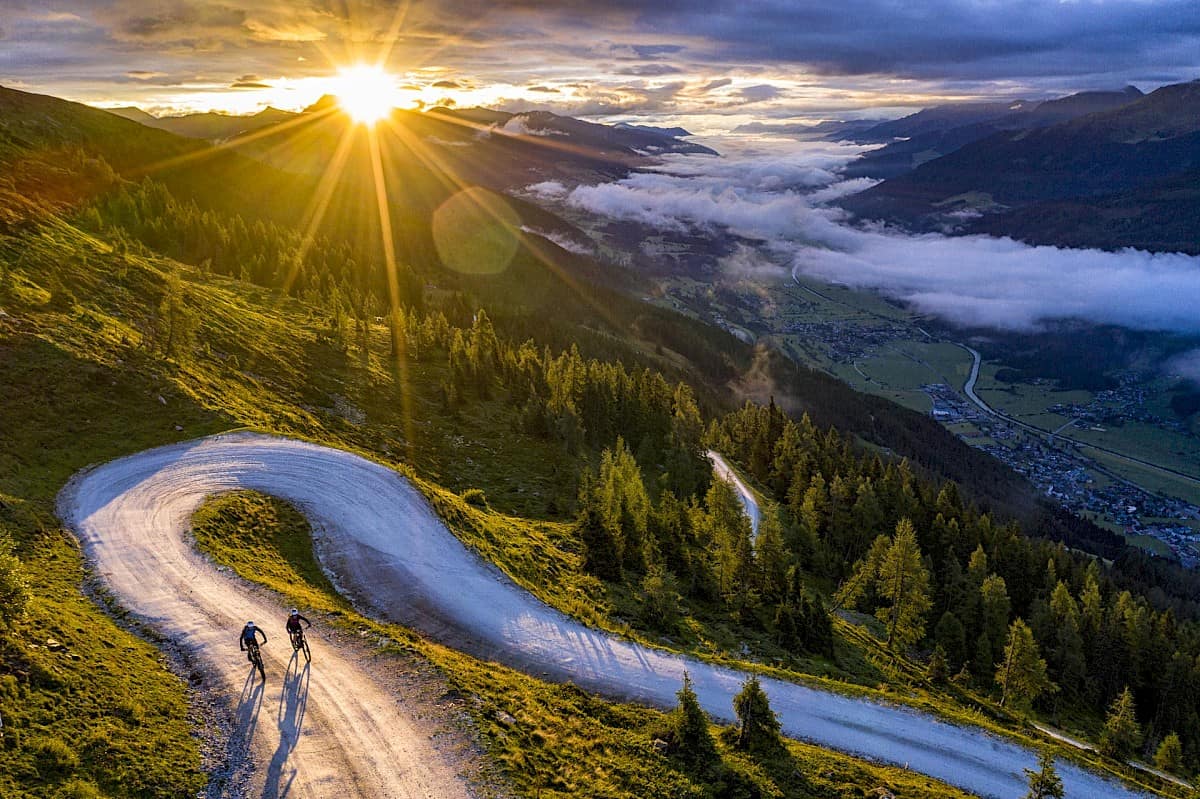 Check your bike
Before every ride, check your brakes, tire pressures, wheels, suspension and gear shifts. Only at that point can you focus completely on biking. Even then, something might break, so be sure to bring along some lightweight tools and a patching kit. To avoid major damage or catch it early, have your bike inspected at a bike shop once a year. Our tip: Clean and maintain your bike after every ride. 
Complete Equipment 
Depending on the extent of the tour you are about to set out on, you will need to be equipped with certain gear. As a rule, it's always better to have too much rather than too little. That said, EVERY rucksack should contain warm clothing, rain protection, a repair set, first-aid kit, mobile phone, a light, gloves, biking glasses as well as food & drink. We recommend checking the equipment of all participants before setting out and adding anything that happens to be missing. 
Always in a helmet 
This is a topic that shouldn't even be a topic for discussion anymore. Whenever you get on a bike, you should have a helmet on your head. Up- or downhill, it makes no difference. Often it just takes a small pebble or a slippery root and you'll be off your bike in a split second. To be ultra-sure, we also recommend protectors in addition to the helmet.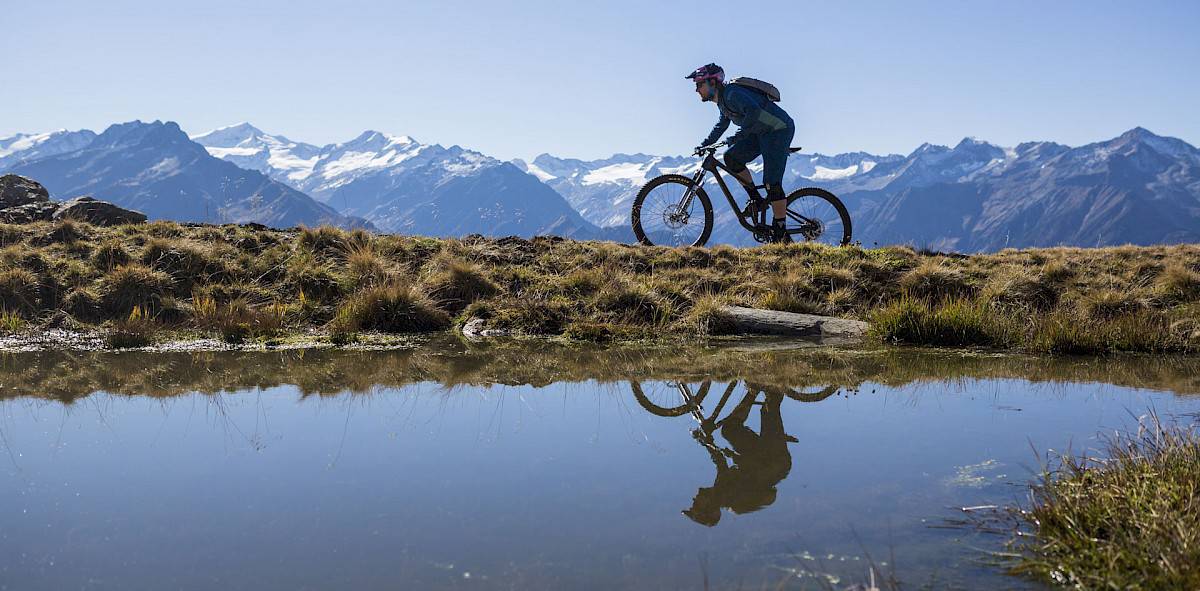 Walkers have the right of way
Whenever pedestrians are part of the equation, bikers need to be extra careful and considerate. It's not just about avoiding accidents, it's also about showing mutual respect in the mountains. Signal your intentions early and reduce speed to ensure everyone gets along. In general, avoid biking on hiking paths with lots of pedestrian traffic.
Control your speed
Everyone enjoys the "rush" that comes from biking faster. However, you must adjust your speed to the situation and your own skills. Always be prepared to brake, which will help you take evasive action in plenty of time to avoid accidents.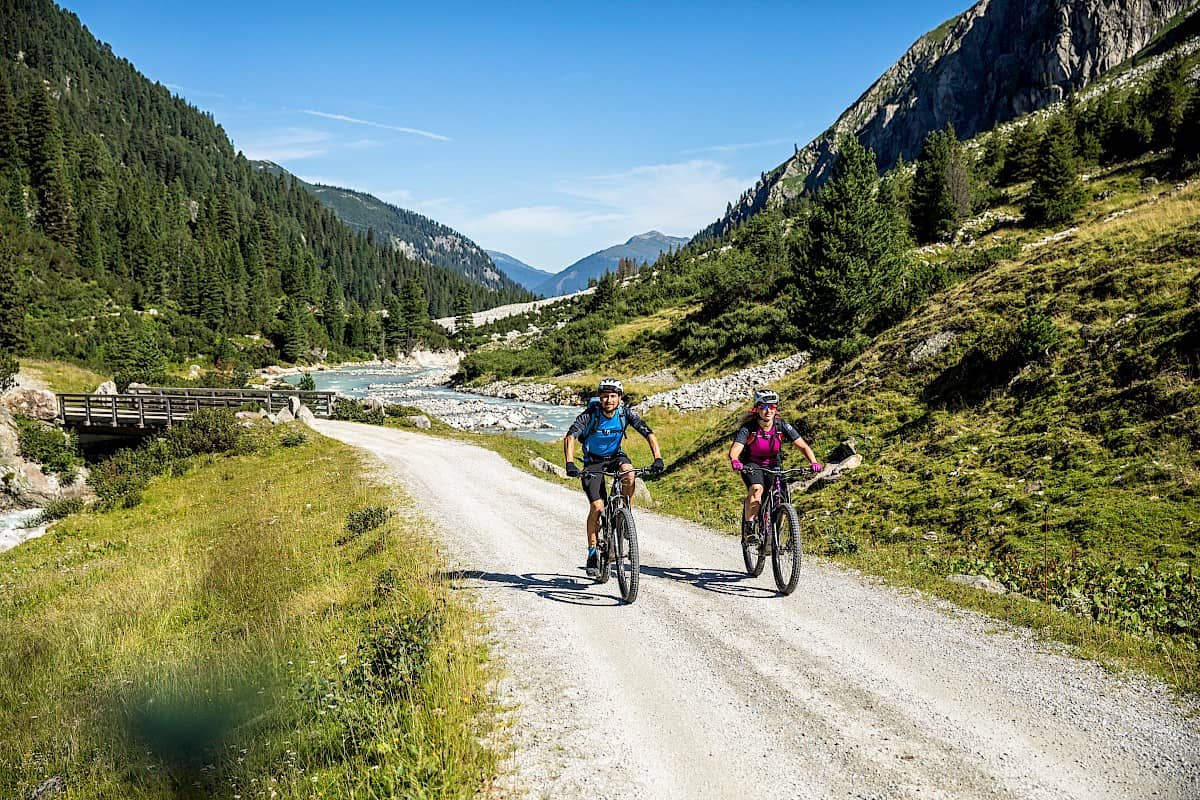 Leave no traces behind
Bikers are only guests of Mother Nature, something you should never forget. For this reason, never leave trash behind and avoid noise that might disturb wildlife. Controlled braking avoids unnecessary ground erosion and trail damage.
Consideration for animals
Last but not least, one of the most important rules to bear in mind when you are exploring nature by mountain bike: It is your duty to preserve life and not disturb the animals. We only ride in daylight to keep the disruption to an absolute minimum. If you have to approach an animal, only do so at a walking pace. Close gates in fences behind you as soon as you have passed through. 
Further information about safe interactions with/in nature can be found on the homepage of the initiative "Respect your boundaries" promoted by Salzburg Province.