Tobogganing in Wildkogel Arena Neukirchen & Bramberg
Sled on the world's longest floodlit toboggan run!
With the help of the Smaragbahn lift in Bramberg, you will quickly find yourself at around 2100 meters above sea level, where the world's longest nighttime toboggan run begins. Then it's all about gathering your courage and preparing your sled, before embarking on an adventurous 14 km ride down this floodlit run, all the way back to the valley far below. Within a span of 30 - 50 minutes, you will cover an incredible 1300 vertical meters. If you prefer to ride the Wildkogelbahn lift from Neukirchen up to the ski area, you are also just a 10-minute walk from the top of this run dropping down to Bramberg.
1,300 vertical meters on a single ride
The Smaragdbahn in Bramberg will carry you up to an elevation of 2100 m above sea level, the starting point of the world's longest floodlit sled run. At that point, there's nothing left to do except summon your courage, give your sled a final once-over, then zoom down this 14 km long, adventure-packed sled run all the way back to Bramberg. Within roughly 30 – 50 minutes, you will drop an incredible 1300 vertical meters. If you decide to ride the Wildkogelbahn up to the ski area from Neukirchen, you are likewise only a 10 min walk from the top of this sled run to Bramberg.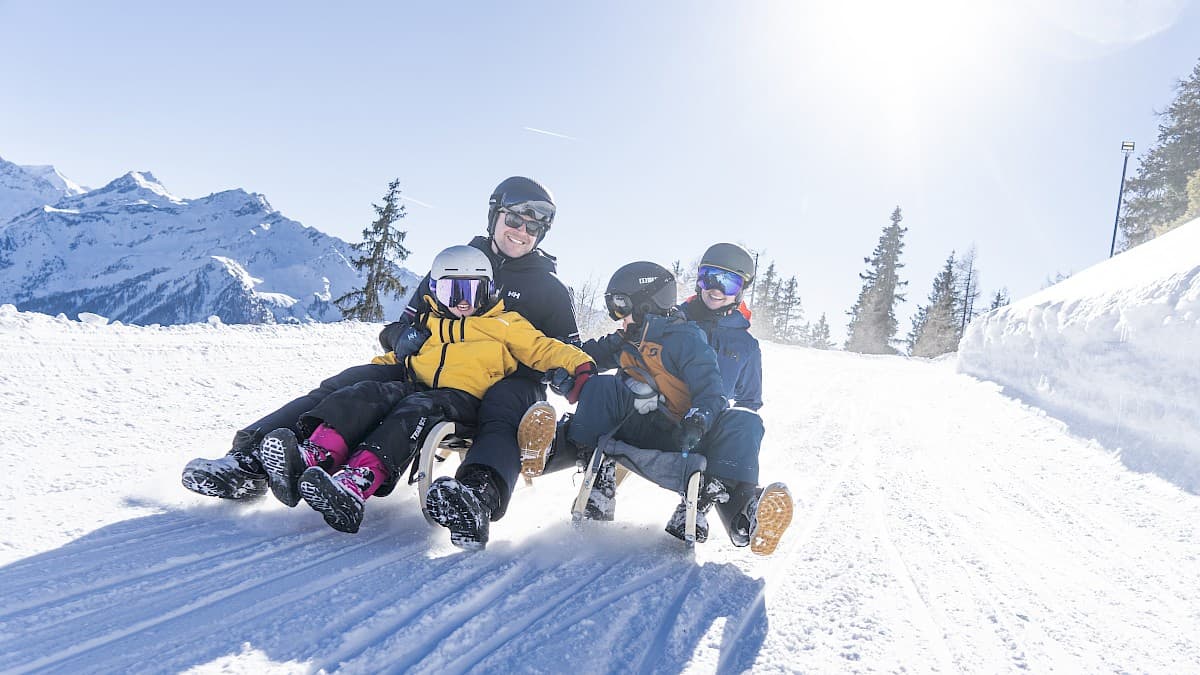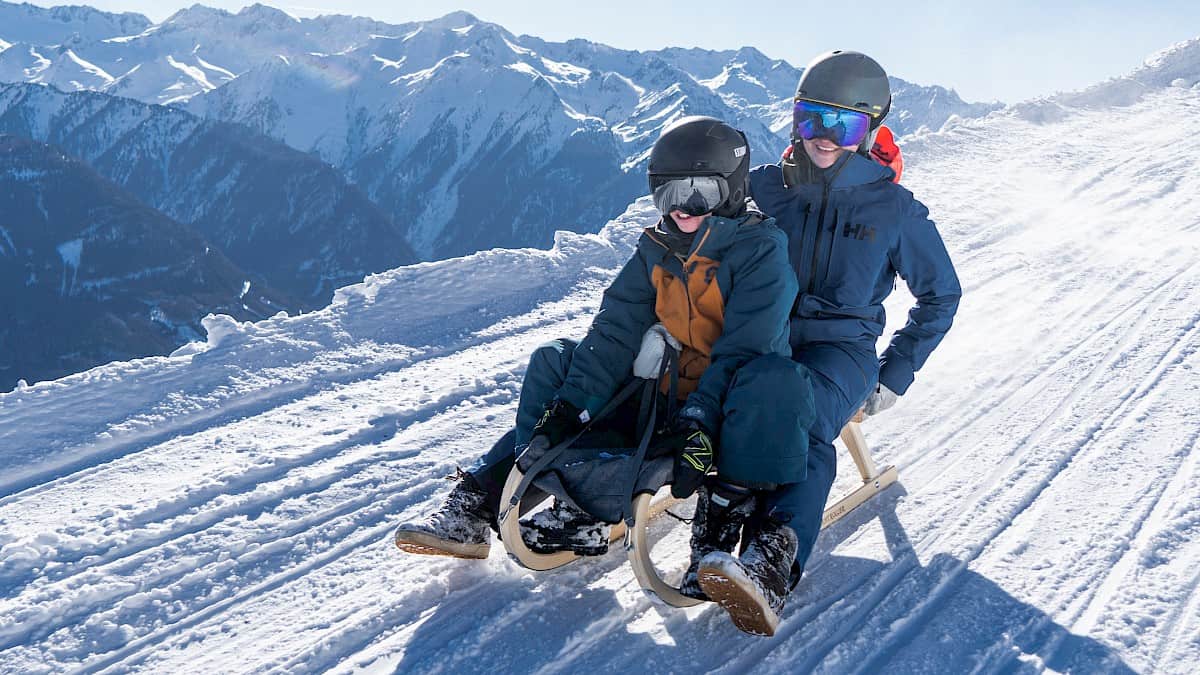 Tobogganing records on 14 kilometres
Opening Times:
The lift ride up is possible until 4:15 PM. 
On Friday, in favorable weather conditions, the Smaragdbahn extends lift service until 6:30 p.m.. 
The entire length of the sled run is floodlit daily until 10 p.m.. (The sled run closes at 10 p.m. in order to get it back into tip-top shape for the following day). 
Prices:
Single ride for adults or youths: € 17.00; for children: € 8.50
All-day sledding pass for adults and youths: € 42.50; for children: € 21.00 
Evening lift rides are included as part of the all-day sledding ticket. However, the price of a ski pass does not include evening lift service.
Please follow a few simply rules

The toboggan run closes at 10.00 pm (the floodlighting is turned off at 10.00 pm)
Stay in the designated waiting areas and under no cirumstances in the curve sections of the run.
Cross the toboggan run only in clearly visible places.
With a high frequency of tobogganing, distinct wave formations may form in the snow. We ask that you adjust your speed based on the toboggan run conditions.
Always keep the toboggan strapped to you to avoid unnecessarily endangering your fellow tobogganers and losing your toboggan.
In order to truly enjoy your ride, appropriate clothing is necessary. We especially recommend ski goggles, scarf, cap, ski pants or gaiters, gloves, sturdy boots - no ski boots. Children up to 6 years old should be accompanied by parents on a toboggan ride! Tip: tobogganing with a helmet will be even safer!
Be considerate of other tobogganers. Behave in such a way that no other person is in danger or can be injured.
Do not toboggan if you are impaired by alcohol. Such substances reduce the ability to react and properly assess danger.
Tobogganing on ski slopes is dangerous and not allowed.
No dogs! Four-legged friends must stay at home during the tobogganing fun. The risk of collision is too great.
Take a controlled descent! Always keep a safe distance from other sledgers. Speed and style must be adapted to your ability, the density of traffic and the conditions.
Pay attention to all barricades and warning notices.
And if you need up-to-date information about sledding (closures, opening times etc.), simply call our sledding hotline. The telephone number is: +43 6565 39800

Ski Helmet Requirement in Austria

Minors under 16 years of age must wear a standard commercial winter sports helmet whenever using the ski slopes to participate in winter sports.  

Parents, guardians or chaperones are responsible for insuring to the greatest possible extent that those in their charge comply with this requirement.
Head protection must also be worn on maintained pistes when using all types of winter sports equipment, such as ski bobs and toboggans. 
The helmet requirement only applies in the following Austrian provinces: Salzburg, Upper Austria, Styria, Lower Austria, Carinthia, Burgenland and Vienna. 
No legal requirement is currently in effect in the provinces of Tyrol and Vorarlberg. However, Vorarlberg has issued a public recommendation that ski helmets be worn.
The law does not foresee inspections to insure that the helmet requirement is being met. Guardians are also not subject to penalties if a child does not wear a helmet. The intent is purely to make people clearly aware of the dangers associated with children skiing or snowboarding without a helmet.
That said, failure to comply with the helmet requirement may result in problems with insurance providers, who may refuse to cover costs resulting from an accident. 

Nonetheless, outfitting children under your supervision with helmets (which can be borrowed either for free or at minimal expense from area rental centers as well as ski schools) is the most sensible step, since most skiing accidents also involve a high risk of severe head injury – with a helmet, you can significantly reduce the risk of major head trauma.
In diesem Video finden Sie ein paar wertvolle Rodeltipps!
However, we also have a number of smaller family sledding hills in the Wildkogel-Arena that invite you to have fast-paced fun together in the snow:
Stockenbaum natural sled run (5 kilometers) 
Wildkogelbahn mid-station – in the direction of Gasthof Stockenbaum
 
Neuhaushof natural sled run (3 kilometers) 
Smaragdbahn mid-station – in the direction of Gasthof Neuhaushof
 
Kühnreit sled run 
in the town center of Neukirchen (ca. 1.5 kilometers)
floodlit daily until 10 p.m.